Prevail K-9™ Nutrition Facts of Ingredients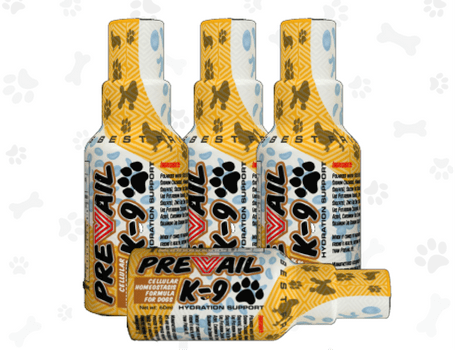 Valentus  Prevail K-9™
is a GREAT way to Enhance
your Pets Healther Lifestyle!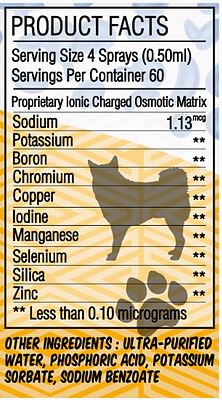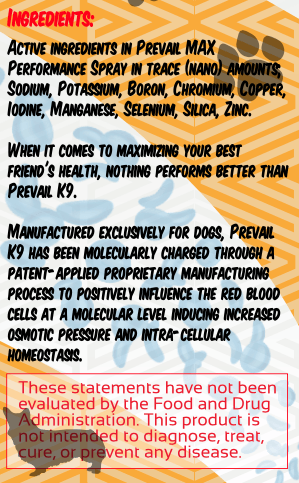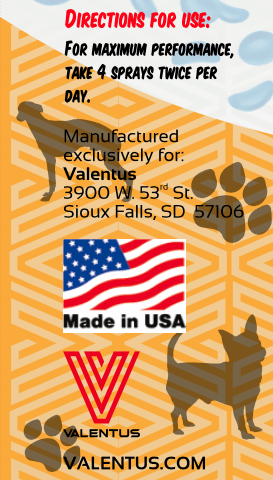 Prevail K-9™ Nutrition Facts:

Benefits & Ingredients:
Polarized Water (RO/UV/DI/IC), Sodium (AS Sodium Chloride), Manganese (AS Manganese Sulfate), Silicon (AS Sodium Silicate), Iodine (AS Potassium Iodide), Copper (AS Copper Sulfate), Zinc (AS Zinc Sulfate), Potassium (AS Potassium Chloride), Boron (AS Boric Acid), Chromium (AS Chromium Chloride), Selenium (AS Sodium Selenite).
When it comes to maximizing your best friends health, nothing performs better than Prevail K-9™.
​Manufactured exclusively for Dogs, Prevail K-9™ has been molecularly charged through a patent-applied proprietary manufacturing process to positively influence the red blood cells at a molecular level inducing increased Osmotic pressure and Intra-Cellular Homeostasis.
Directions:
Prevail K-9™ is a sprayceutical that is best absorbed by spraying directly into the pets mouth by pulling back or their lip and spray around gum line,  twice a day/4 sprays.  It can also be sprayed into their water bowl or on a treat if you are having troubles, not as effective this way but better than not at all.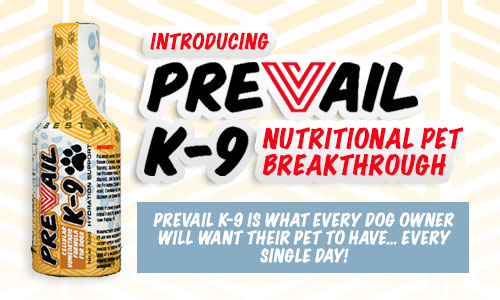 Sorry for the gross photo. But seriously – this is huge progress!! One condition in boxers is epulis, a lumpy overgrowth of gum tissue. Epulis is a benign growth of the gum tissue, which begins as small bumps on the gums and continues to grow, sometimes becoming cauliflower-like and almost enveloping some of the teeth. The vet said not to have the very painful and expensive surgery unless she had trouble eating. She has no issues so not opting for the surgery as she isn't in any pain. But excited after 2 weeks the gums are shrinking and can see her some teeth we didn't know she even had! Even the puffy redness is starting to look better.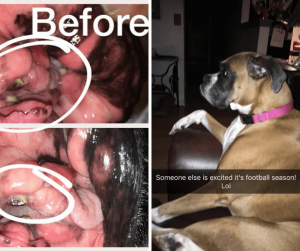 Please note that some of her teeth issues were from being kept in a crate too long as she would crib. We were not aware of this when we took her in. Happy to report she isn't locked up any more for hours at a time and actually enjoys watching TV!! although she is getting older- k9 has made her more youthful in playing around the house with our other boxer and my grandson! I love this product!
                                                                                      Tracy R
We've been giving Prevail K9 to our 12-year-old Havanese dog, Calla, for the last month and the blueness of age that was across her eyes…has all disappeared! She displays more energy and even jumped off the bed which she hasn't done in a long time! Can't wait to find out what else this product will do for her 🙂
                                                                           Juanita W