Prevail Keto Creamer™ Nutritional Facts and Ingredients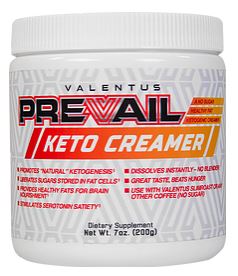 The Valentus  Prevail Keto Creamer™
is a GREAT way to Enhance
your Healther Lifestyle!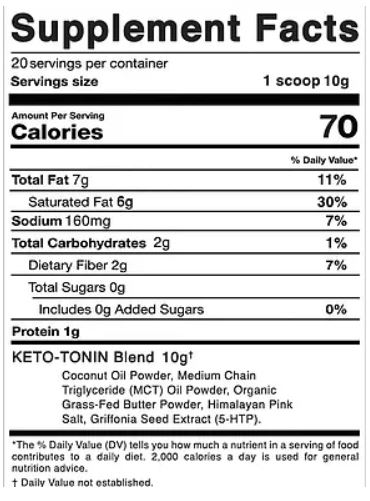 Directions:
Prevail Keto Creamer™ is a powder you mix in your drink.
One serving is 1 scroop mixed with  4-8 fl.oz. of hot or cold beverage, stir and enjoy
Promotes "Natural" Ketogenesis
Liberates sugars stored in fat cells
Provides healthy fats for Brain nourishment
Dissolves instantly – No blender!
Tastes great! Beats hunger!
Used with Valentus SlimRoast Coffee or any other coffee (no sugar) creates a Kosher tasting beverage
To create a variety of flavors mix with any of the other Valentus beverages if desired!
* These statements have not been evaluated by the Food and Drug Administration. This product is not intended to diagnose, treat, cure or prevent any disease. If you are pregnant, nursing, taking medication, or have a medical condition, consult your physician before using this product.
 Prevail Keto Creamer™ Ingredients and Nutrition Facts:

Coconut Oil Powder:
Prevents wrinkles, sagging skin, skin dryness and flaking
Reduces protein loss in hair and nourishes hair
Treats pancreatitis and Alzheimer's disease
Prevents and effectively cures Candida
Improves bone health
Helps in easy digestion
Strengthens immune system
Prevents diseases affecting liver and kidney
Effective in healing damaged tissues and infections
Rich in lauric acid that helps maintain blood sugar and cholesterol levels
Medium Chain Triglycerite (MCT) Oil Powder:
Using MCT oil is very effective for people who struggle with low energy, poor digestive health, obesity, hormonal fluctuations, slow metabolism, Dementia, Alzheimer's, Diabetes and inflammatory conditions, as well as those who are at high risk for cardiovascular disease.
Controls Obesity
Increases Energy Levels
Immune System
Improves Digestion
Boosts Heart Health
Maintains Hormone Balance
Prevents Diabetes
Improves Cognitive Function
When small medium-chain fatty acids convert directly into ketones, one of the areas where these are believed to have the most effect is in the brain. By providing energy to and protecting neural pathways, these ketones can mitigate the symptoms of dementia, Alzheimer's and other neurodegenerative diseases, by providing energy for concentration, focus and memory retention.
 Organic Grass-Fed Butter Powder:
Contains CLA:   Conjugated linoleic acid which helps to reduce belly fat and help protect against cancer and supports muscle growth.
Great Source of Bulyrate:  A short-chain fatty acid which reduces inflammation.
Contains Vitamin A – Retinol:  Which is good for the thyroid, adrenals and cardiovascular health.
Great Source of Vitamin D & K2:  May reverse arterial calcification and helps increase bone density.
Contains Essential Fat:  Butter is rich in omega 3 fatty acids.
Additional  Nutrients:  Lecithin, Selenium, Magnesium, Zinc, Copper, Iodine and more!
Himalayan Pink Sea Salt:
These minerals are in a very small colloidal form and inter-connected in structure allowing for easy absorption and a nutrient synergy that exponentially enhances their effect in the body.
promotes blood sugar health
Energy production
Abosorption of food particals
Supports vasular and respiratory health
Promotes sinus health
Prevention of muscle cramps
Promoting bone strength
Regulating your sleep and moods
Supporting your libido
Enhances immunce function
Stabilize heart rate and blood pressure
Extracts excess acidity 
Controls the body water levels
Promotes stable PH balance in the cells
Griffonia Seed Extract (5-HTP):
Griffonia is proven to increase serotonin production, helping you to balance your mood and achieve optimal health.  It is easily absorbed in the intestines and has been shown to easily cross the blood brain barrier.
Serotonin is an important chemical and neurotransmitter in the human body that helps to regulate mood and social behavior, as well as appetite, digestion and sleep.
It sends signals between nerve cells, telling your brain how and what to feel. A lack of Serotonin has been found to correlate with depression, weight gain and overall poor health.
Conversely, studies have shown that an abundance of Serotonin is key to a balanced mind and body. When Serotonin levels increase, feeling of anxiety and depression drop, you can count on a good night's rest, and your body is more likely to release weight.