Prevail Keto Creamer™
Supports and Promotes Natural Ketosis
Prevail Keto Creamer™ supports the low sugar, high healthy fat lifestyle of eating !
Promotes natural ketosis SIMPLIER & EASIER, than ever before!
Adding this to any of our tasty drinks will get you to your goals FASTER!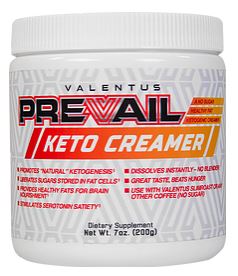 VALENTUS
wanted to make it a little easier to get your body into a state of Ketosis which is why they created
Prevail Keto Creamer™.
Formulated with  ingredients to help support and promote your body to come to a ketogenic state more easily.   Prevail Keto Creamer™ is a great addition to any weight management program.
The Prevail Keto Creamer™ will  help you to manage your weight in a healthy way.   Just wait until you taste how this creamer enhances any drink and makes it more delicious!  You will LOVE it!
The Prevail Keto Creamer™ is an independent additive to the system.
Recommended amount of servings will depend on the intensity of the plan you may be following to acheive your results.
If you experience sensitivity to the natural ingredients, simply start by using  1/2 a scoop and gradually increase in the following days and weeks.
A low sugar, high healthy fat diet promotes natural Ketosis in your body, creating Ketones that stimulate and nourish your brain. In Ketosis, your body triggers fat cells to release stored sugars to balance your glucose levels.
Ketones are brain fuels that also improve mood. Additionally, Serotonin (the happy hormone) is majorly produced in our gut, but it needs support. Griffonia Extract (5-HTP) is proven to increase your Serotonin production.
Combined, these KETO-TONIN nutrients stimulate satiety and better mood, while promoting fat burn.
Ingredients:  Keto-Tonic Blend
Coconut Oil Powder
MCT Oil Powder
Organic Grassfed Butter Powder
Himalayan Pink Salt
Griffonia Seed Extract (5-HTP)


Directions:

Prevail Keto Creamer™

is a powder you mix in your drink.

One serving is 1 scroop mixed with  4-8 fl.oz. of hot or cold beverage, stir and enjoy
Promotes "Natural" Ketogenesis
Liberates sugars stored in fat cells
Provides healthy fats for Brain nourishment
Dissolves instantly – No blender!
Tastes great! Beats hunger!
Used with Valentus SlimRoast Coffee or any other coffee (no sugar) creates a Kosher tasting beverage
To create a variety of flavors mix with any of the other Valentus beverages if desired!